Imagine getting the most out of your store-front window space this Black Friday with full color ads without blocking your views!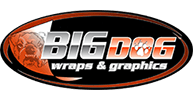 View-thru window graphics & banners by BIG DOG Wraps is a great way to promote your products this upcoming sales season.  This Black Friday get ready to have a boost in sales. Promotional banners and attractive window graphics is precisely our specialty. If you want something different and attractive that will actually get's people through the door, then contact us! We have just what you need. 
Our paper printing service gives you the freedom to use your own design with our premium paper options, formats and additions. We will print business cards, tri-folds, brochures, stationery, everything you need for your business and more. Give us a call for more information. You see our love for graphic design is what started this whole business, and it gives us great satisfaction to go "back to basics" just for you! With our experienced graphic artists, we will turn your sketch or pre-developed images into reality. And we will help you along the entire process using only the best of materials.
Big Dog Custom Designed Vinyl Window Wraps & Graphics
Look no further than BIG DOG Wraps & Graphics to get your business, products or services the attention they deserve. As a leader in Vehicle Wraps, Fleet Graphics, Custom Vinyl & Vehicle Wrap Advertising, we help our customers generate more impressions for their company in a single month, than their yellow page ad does in an entire year. Get a free quote today!
You can reach us over the phone any time or use our contact form to get in touch with us by e-mail so that we can work together on providing the finest vehicle and fleet wraps for your needs.