In the bustling marketplaces of today, businesses are constantly vying for attention. The right visuals can be the difference between blending in and breaking out. At BIG DOG Wraps & Graphics, we understand this. Our expertise in Business Graphics promises not only visibility but also memorability.
The Power of Business Graphics
Making an Impression:
The first impression often lasts the longest. Business Graphics play a pivotal role in how a brand is perceived. Whether it's the signage outside your office or the design on your marketing collateral, the graphics communicate the essence of your brand to your audience.
BIG DOG's Approach to Business Graphics:
Our family legacy, spanning over 38 years, is rooted in excellence. Since our inception in 1996, we've been driven by a commitment to quality, integrity, and value. Our approach to Business Graphics isn't just about design; it's about creating visual stories that resonate with your audience.
Why Choose BIG DOG Wraps & Graphics for Your Business Graphics?
Unparalleled Experience:
Our rich tapestry of 38 years in the design, printing, and installation industry makes us the go-to choice for all things graphics. This vast experience translates into designs that are not only aesthetically pleasing but also functionally effective.
State-of-the-Art Tools & Techniques:
Quality Business Graphics demand the best tools, and at BIG DOG Wraps & Graphics, we pride ourselves on employing state-of-the-art equipment. This ensures crisp, clear, and compelling graphics every time.
Fair Pricing without Compromising Quality:
Our commitment to providing value means you get premium Business Graphics at fair prices. This balance between cost and quality is what sets us apart.
Customization to Your Needs:
Every business is unique, and so are its graphic needs. Our team of professionals takes time to understand your brand, ensuring that the Business Graphics we create are in perfect harmony with your brand's voice and vision.
Elevate Your Brand with BIG DOG Wraps & Graphics
In the world of business, graphics aren't just adornments; they're powerful tools of communication. They capture attention, convey information, and compel action. With BIG DOG Wraps & Graphics at the helm, you can be assured of Business Graphics that not only look good but also work hard.
Isn't it time your brand got the BIG DOG advantage? Dive into a world where design meets impact. Let's craft Business Graphics that truly set you apart. Contact us today!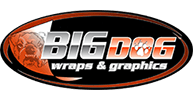 Areas we serve:
Colorado Springs, CO
Westminster, CO
Castle Rock, CO
Lakewood, CO
Aurora, CO
Englewood, CO
Littleton, CO
Boulder, CO
Thornton, CO
Parker, Co