In the vast world of graphic designs and print solutions, the quality and precision of materials make all the difference. Enter BIG DOG Wraps & Graphics, your one-stop destination for all things vinyl. Our Vinyl Shop is not just a store; it's an experience that redefines what you know about premium vinyl products.
The BIG DOG Vinyl Shop Difference
Decades of Excellence:
With more than 38 years of combined experience, our family-owned business has crafted a legacy in design, printing, and installation. Since our inception in 1996, we have continually raised the bar, ensuring that our Vinyl Shop is synonymous with top-tier quality and unparalleled craftsmanship.
State-of-the-Art Equipment:
In a field where precision matters, our Vinyl Shop is equipped with state-of-the-art machinery. This ensures that every cut, print, and design meets the high standards that our customers have come to expect from BIG DOG Wraps & Graphics.
A World of Choices:
Our Vinyl Shop boasts a wide range of products tailored for diverse needs. Whether you're seeking vinyl for vehicle wraps, wall applications, or custom designs for branding purposes, we've got you covered. Our expansive inventory ensures that you find the perfect match for your project every time.
Customer-Centric Approach:
At BIG DOG Wraps & Graphics, we pride ourselves on impeccable customer service. Our Vinyl Shop is more than just a place to buy vinyl—it's a place to consult, connect, and realize your vision. Our team of professionals is always on hand to guide, advise, and transform your ideas into reality.
Why Choose Our Vinyl Shop?
In a city bustling with options, the BIG DOG Vinyl Shop stands out. Our commitment to excellence, rooted in values, discipline, and honesty, reflects in every product we offer. We understand the intricacies of the design world, ensuring that our vinyl not only looks good but also lasts long.
Moreover, our pricing model reflects our dedication to providing top-notch services without burning a hole in your pocket. Quality, durability, and affordability—that's the BIG DOG promise.
So, if you're in search of the finest Vinyl Shop that offers a seamless blend of quality and variety, look no further. Dive into a world where excellence meets creativity. With BIG DOG Wraps & Graphics by your side, let's make your brand or vehicle not just shine, but truly stand out.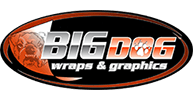 Colorado Springs, CO
Westminster, CO
Lakewood, CO
Aurora, CO
Englewood, CO
Littleton, CO
Boulder, CO
Thornton, CO